Today I had one of the biggest events of the year – puppies arrival!!!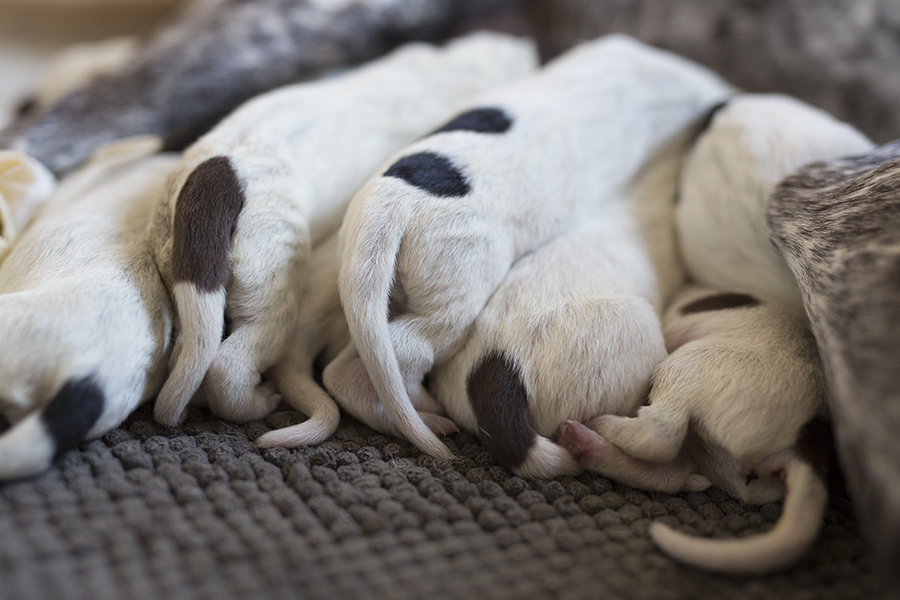 This litter out of Callidus Invictum UPE & Halston Cinnamon has been planed more than 2 years ago. Sabi and Invi has exceptional connection from the very first day they met at the day Sabi arrived as a puppy from Hungary to us. It's so amazing to see two dogs, who have special attitude to each other and now they have a bunch of puppies.. [:
No words to describe the happiness that all puppies are born healthy and with any difficulties. Sabi is tired but feeling very well and strong. First thing she did going outside still being in a birth process – pointing the birds [: She is very attentive mother.
So now about our long long night…
At midnight, exactly about 00:00 Sabi started preparatory processes of birth.
First puppy has arrived 2:45 AM, second 3:34, third 4:08, fourth 5.25 and than we had a very tiring 4 hours brake. The whole process took us 15 hours…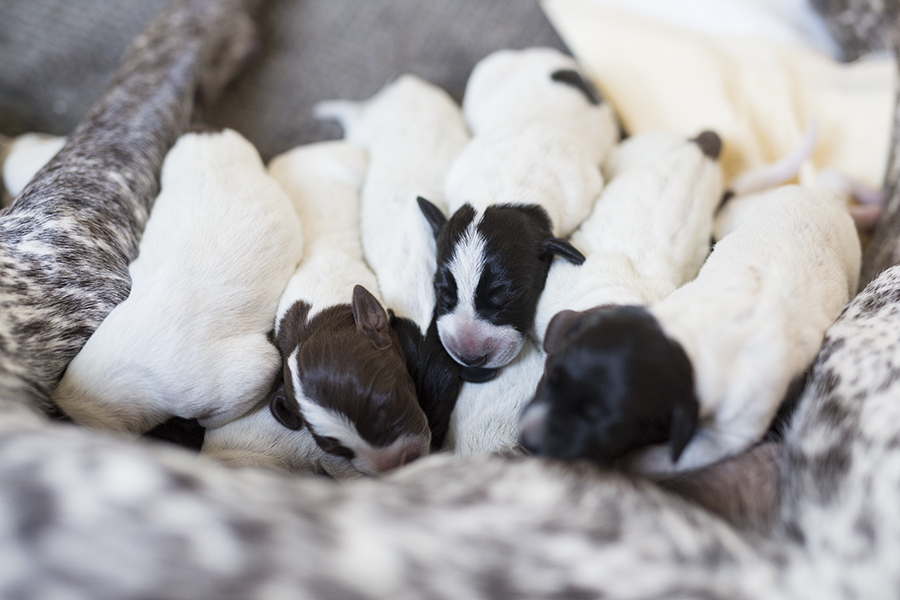 Tired as hell all of us but but happy till heaven [:
In the end we have our all time record – 12 puppies! 8+4.
6 brown marked and 2 black marked males.
2 brown marked and 2 black marked females.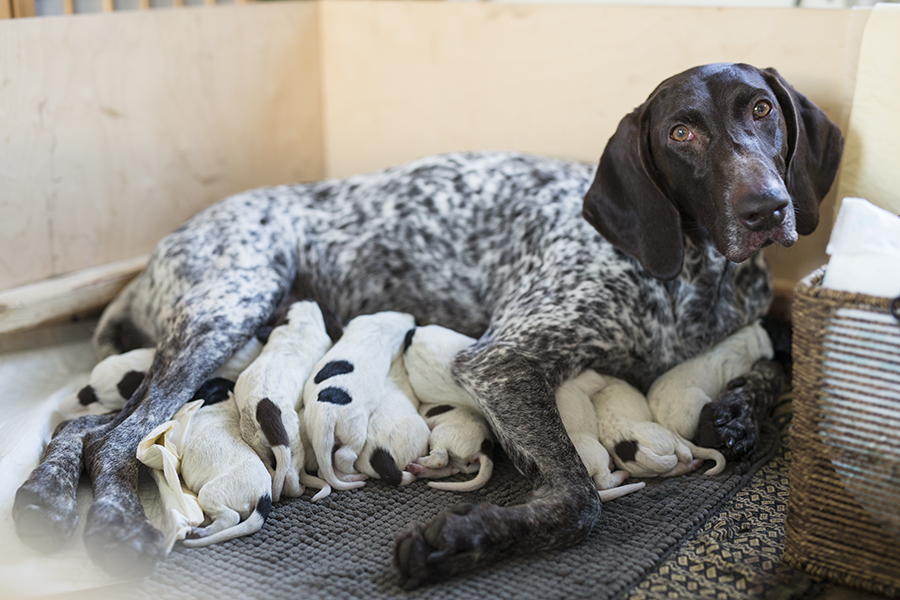 When the process is so long you must to get a proper rest.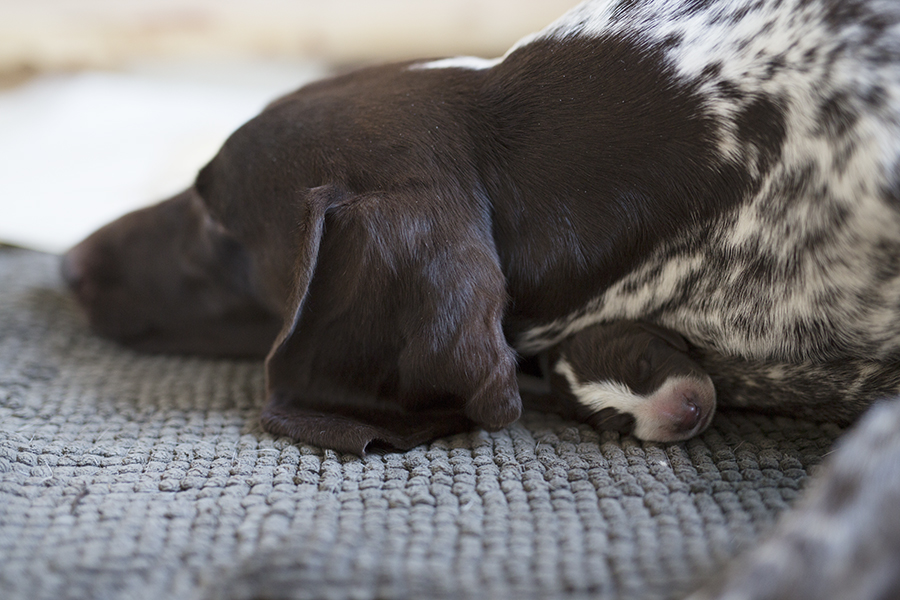 Sabi and her newborn puppy.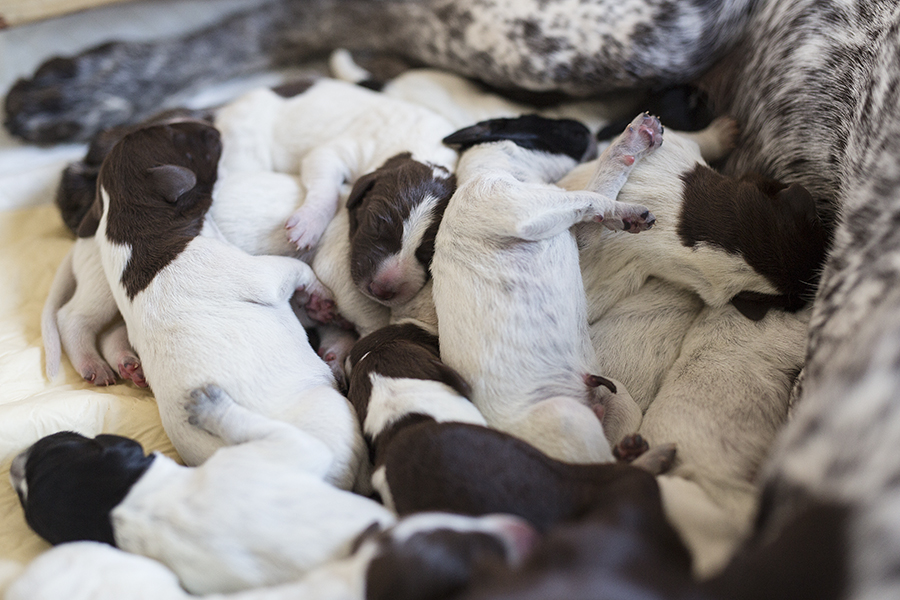 Everybody seems to be just alright [: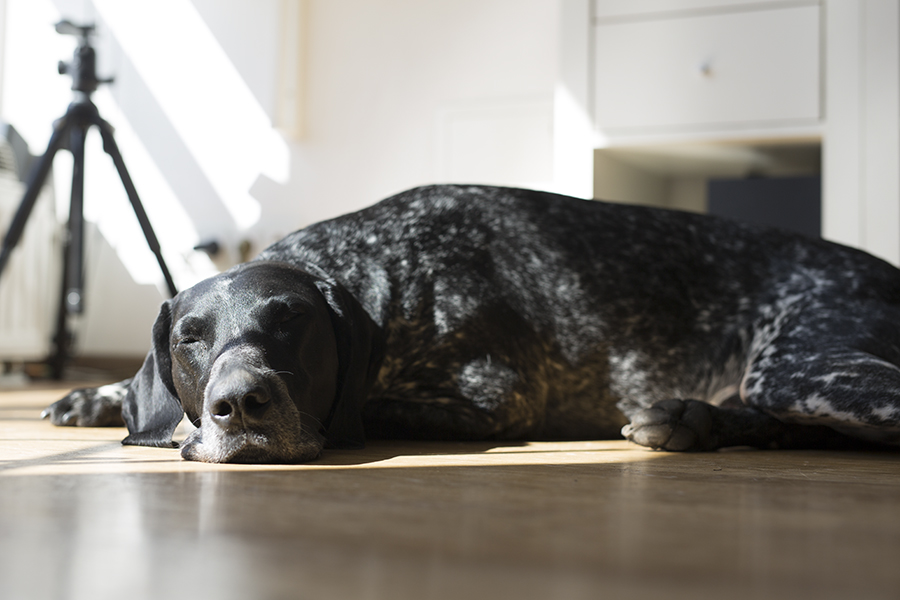 Daddy Invi is very accurate introducing to his pups. Tries to understand what happened in the house and just resting now. Invi is incredible personality.
The whole night I got priceless support from my biggest soul-friend Bogdan and in the morning Viktorija came to help with continuing birth process.
Audrius & Zivile also have a big input into this litter as well as Egidija and her family.
I have best friends on Earth who are ready to help whenever is needed.
Love you love you love you, my Friends, up till the Galaxy stars! [:
INVI & SABI CLOSELY
Invi and Sabi are one of the strongest dogs in our team by temperament, physical capacity, health and working abilities. So we expect exclusively good working puppies with a very strong and very stable temperament.
Also both of them have a very successful show career. Most important titles gained by them you can find at: https://germanshorthairedpointer.pro/our-dogs/
Invi has exceptional temperament. "One of the thousand" – that's how most trainers describe him. He is the dog that never says NO. He is always ready to do anything for you and is always on working mode. Also he has an OFF button, so he is most lovely cuddle couch potato at home. Very active and strong male, but not choleric or hyper.
Another great moment about him that he is a leader of our pack, but never fights. He doesn't need to fight to show his strength. Also he is super friendly with all humans including kids.
It's a pleasure to see his passion and concentration for work in the fields.
Invi is very talented Sled-dog. I don't know how, but he has such a huge desire to pull that does it 100% from start to finish. Never turns from galloping to trot. Amazing sport dog that couldn't wish more. Invi gets so so exited before the start, that this performance is worth seeing it..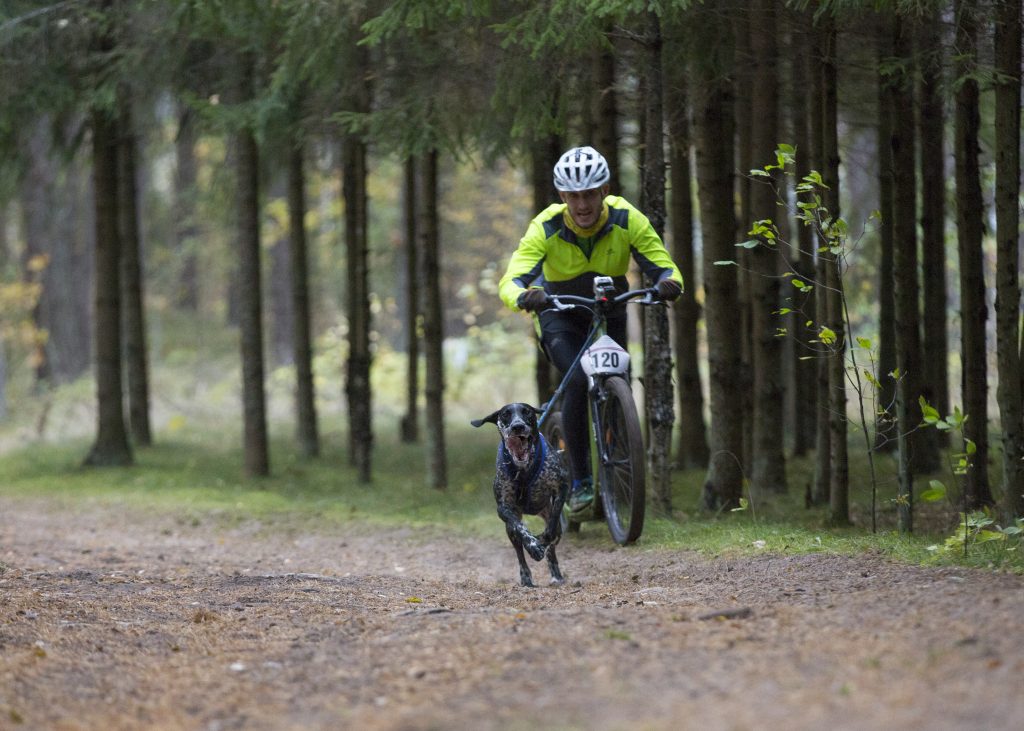 And the last thing about him – Invi is a turbo water dog. He never closes water season (unless the water gets frozen), he can jump into water with ice peaces during the winter and enjoys it…
Sabi is a very strong female in her body and mind. She never lets to touch her victim (whatever it is) for other dogs. Has very big passion for work and has a very beautiful early pointing style. "Early" is that she points a pheasant from the long distance.
When Sabi is in the field, you can mix her with a male as she behaves just like a tank – cross country mode. Doesn't think about rough bushes as obstacle – just goes straight..
Also Sabi is a big Dog-Show star. She has won many important titles in a big and strong competition including Speciality in Latvia last year – Sabi went all the way up winning BEST IN SHOW by honorable group specialist from UK – Sigurd Wilberg. More about grand win: https://germanshorthairedpointer.pro/double-best-in-show/
Sabi is also very loving dog at home. She is not the calmest dog but also has this very good feature – the off button…
Will keep updating from our huge and beautiful GSP family.