Two beautiful dogs with exceptional heads and style of search – BRUNO & LARA.
Both dogs are bred in Hungary. Lara lives here in Lithuania and Bruno – in Hungary.
This is the second Lara's litter.
We had many challenges to make this dream couple possible in this corona era..

I am especially grateful to István Koncz from Hungary for his efforts and willingness to cooperate so that Bruno would became important part of our kennel.
Litter "K" is named under Alaskan island Kodiak where biggest brown bears (just as Bruno [: ) live and are also called Kodiak. There are several reasons why North and northern Lights are important to me.
Viktorija and me are very happy presenting the 11th litter to the World.
16-05-2021 | Sunday morning.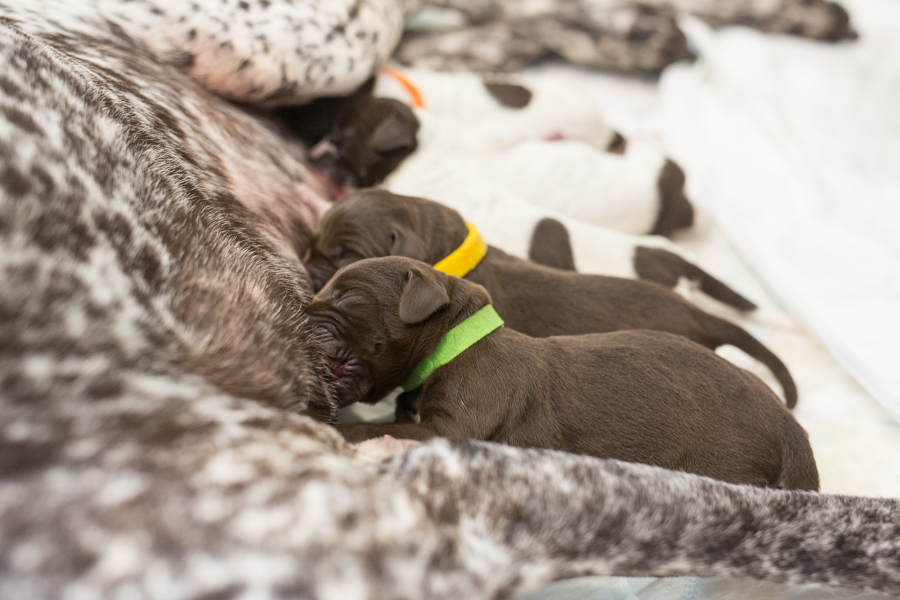 Usually our females like to give birth at night or at least to start late evening and keep going during the night to have a long party… But Lara agrees with us that night is for sleeping and decided to reveal a secret till the night. So the first puppy was born at 10:48 AM and the last – 03:30 PM.
Super fast and easy delivery. It is the second litter for Lara (the first litter was with 12 Hooligans), so we already know that she's an exceptional mother.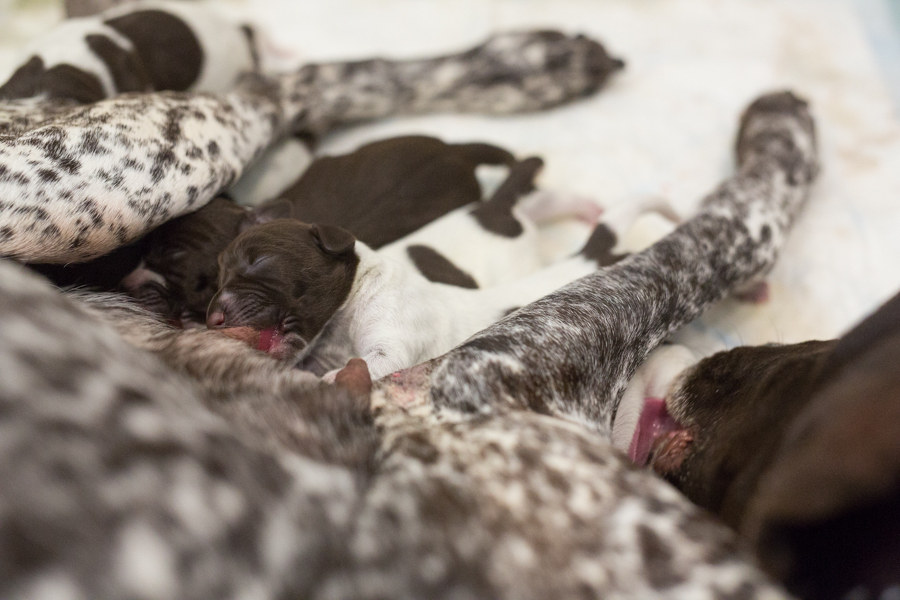 Everything would have been perfect but we had one lost. One puppy was born dead and it was extremely small in size. Mother nature has all the colours we want or no…
Litter KODIAK is our 11th GSP litter starting in 2006. And we have exactly the same amount and even sex distribution as our last litter JOURNEY was – 9 puppies with 4 males and 5 females. 2 males and 1 female are solid liver as their father Bruno and all the rest – as mother Lara.
Puppies are big and strong starting from bit below 400 g ending 520 g.
Viktorija looks at all those puppies and say – "how in the world they could all fit inside of Lara's belly including all the liquids"..
Breeding plays such a big role in my and Viktorija's lives and every gestation takes lots of time and stress. And that moment of birth is like a real miracle.
The first morning looking at them all healthy and eating mother's milk fulfils the soul. Lara feels great and doesn't want to leave her puppies, not even for the minute.
This solid liver male is the first solid liver puppy in UPE's kennel since 2006.
We do a photoshoot of each puppy when they open their eyes.
So we will be back with more pictures in 2 weeks.