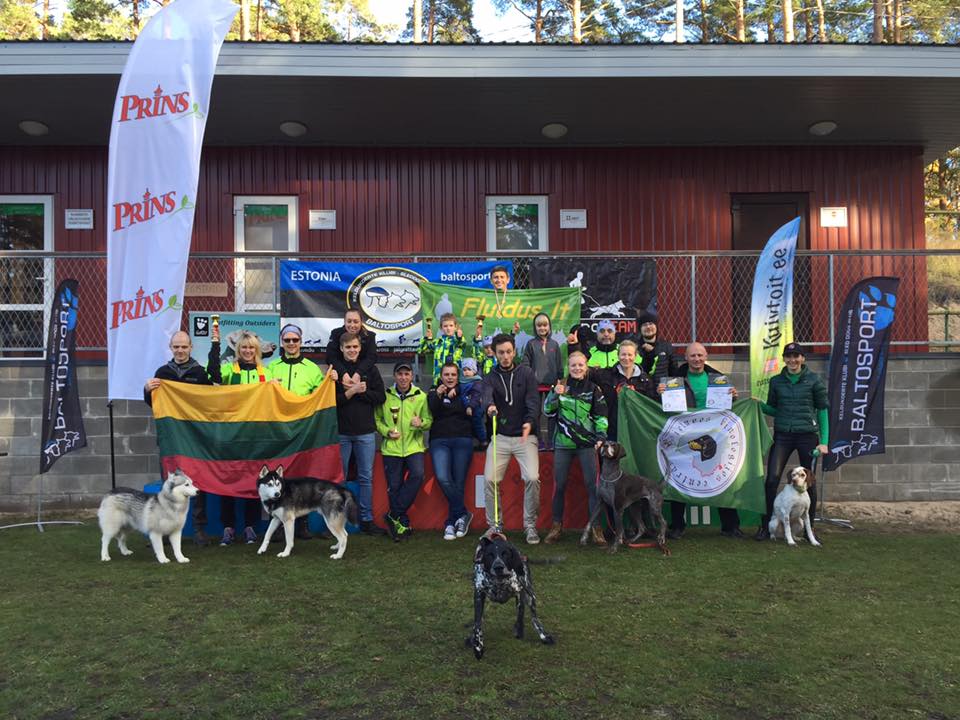 Last weekend we went all the way up to the West coast of Estonia. 2017-10-14/15
IFFS World Cup Races event – Baltic Cup IV took place at a beautiful Jõulumäe Recreational Sports Centre with a history of over 40 years.
Lithuanians came back with 6 Gold, 3 Silver medals, 1 Bronze and other great results!
Track was of full 5 km x 2 days. Nice skiing tracks in a pine-woods.
3 dogs from kennel UPE were participating. All experienced good sport dogs with passion, power and speed:
Bogdan & and Invi (Callidus Invictum UPE) – FIRST in Canicross category! Gold from 14 men, Elite class!
First day start was with 2 lines. Two participants had a start at once.
Bogdan and Invi at the Finish line:
Second day was a new experience for our Team – massive Canicross Start. I am not a big fan of this idea but was interesting to see it live.
First set was done by fastest runners after the First day's results. 10 fastest runners:
And the Finish!
Rūta & Hugo ( Exito Bueno UPE) – FIRST!! – Gold in Veteran class woman!
It was only second races for Ruta and she did it so perfectly, respect from me! 
Viltė & Utu ( Baltia Utu UPE) – SECOND! Silver in Elite class Woman!
It was first time Vilte was running with Utu and they both were so fast, so strong! Vilte would have even take 3 place if running together with men! Iron women and it's just a beginning [:
Some random pictures and few moments from Award Ceremony:
Such a feeling! Congratulations to all participants and biggest thanks to organisers.
Hope to be back in a year!
And my favorite picture of super SIX!
Next races – 28th October, we're ready!