Litter FLASH was born June 11, 2016 out of Halston Caps Lock & Havana Du Nid Aux Nobles.
This litter combines very old French De La Haille au Loup and Hungarian + German working + show bloodlines.
Mother of the puppies is constantly hunting dog.
Havana's mother is World Winner 2012 in Paris. Very charismatic female – Bora De La Haille au Loup.
Havana is calm and peaceful female with a strong passion to work. Especially good in the field searching birds and pointing at. Has a typical French type head and special search style in the field.
Super friendly with all the people and all the dogs. Easy and very calm at home.
She is Lithuanian Junior and Adult Champion.
Havana is multi CACIB and BOS winner, also has several BOB titles.
---
The father Magas is a very strong male with big passion to hunt, water work and retrieve. Magas is the most impressive retrieve "machine" I have ever seen. He could retrieve everything all day long.
Magas has a very bony body with beautiful and very characteristic head & expression. Very well built with correct and free movement.
Magas is a very successful dog at the Dog Shows as well.
Last win from World Dog Show in Moscow, where he was placed first at Intermediate class winning CAC title. With it he became Russian Champion.
Multi BOB and BIG winner, 4 times Best in Show winner.
You can find more detail info about our dogs here: https://germanshorthairedpointer.pro/our-dogs/
---
Both dogs got perfect health test results and are free of dysplasia (HD-AA, E-00). Also their eyes are tested CLEAR.
Out of this combination we got 10 healthy liver & white patched & ticked puppies – 3  males & 7 females.
We expect puppies with a great working type temperament, as their bloodlines are of a very special dogs that are very successful as working and show dogs.
What was done for our pups at the age of 3 weeks:
> First try of the highest quality puppy food
> 180 nails cut for the second time
> First deworming done
> First photo session of each pup
---
Flash of Me UPE  ♀
D.O.B. 2016-06-11
Click on the picture to see more photos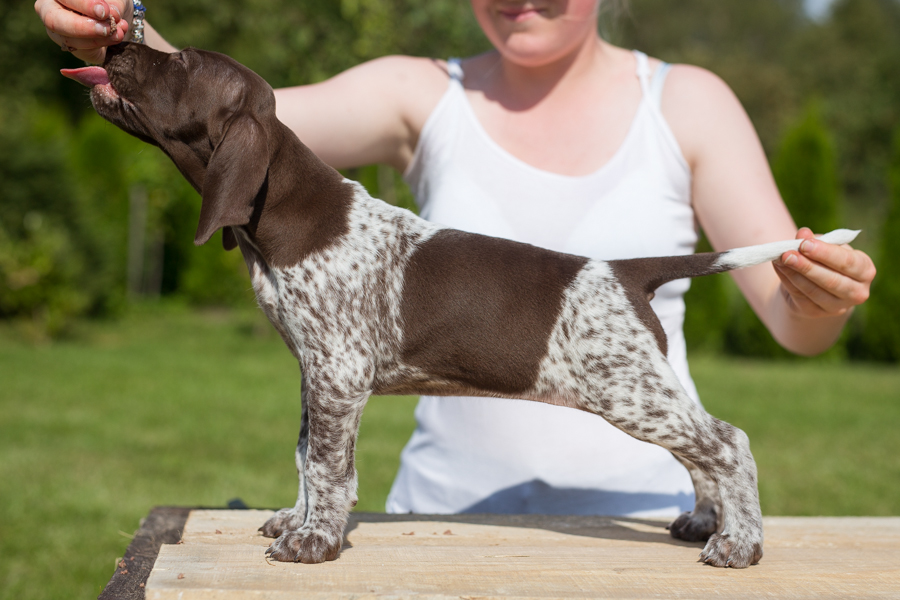 ---
Flash of Magic UPE  ♀
D.O.B. 2016-06-11
Click on the picture to see more photos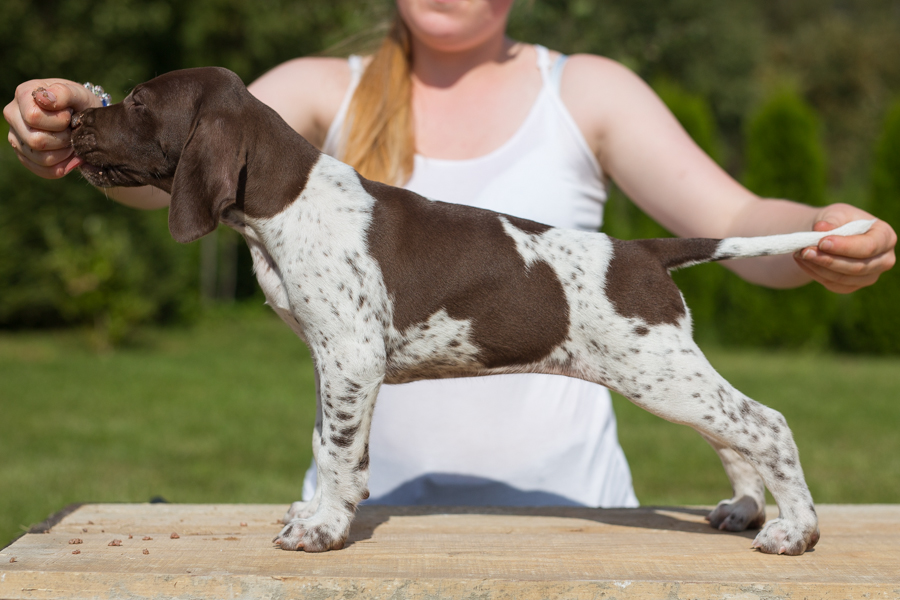 ---
Flash of Freedom UPE   ♀
D.O.B. 2016-06-11
Click on the picture to see more photos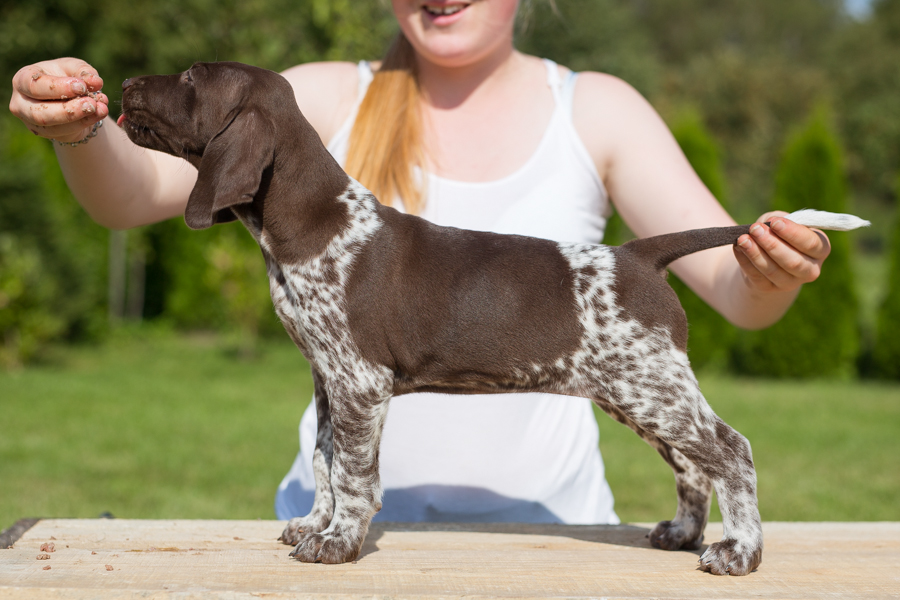 ---
Flash of Life UPE  ♀
D.O.B. 2016-06-11
Click on the picture to see more photos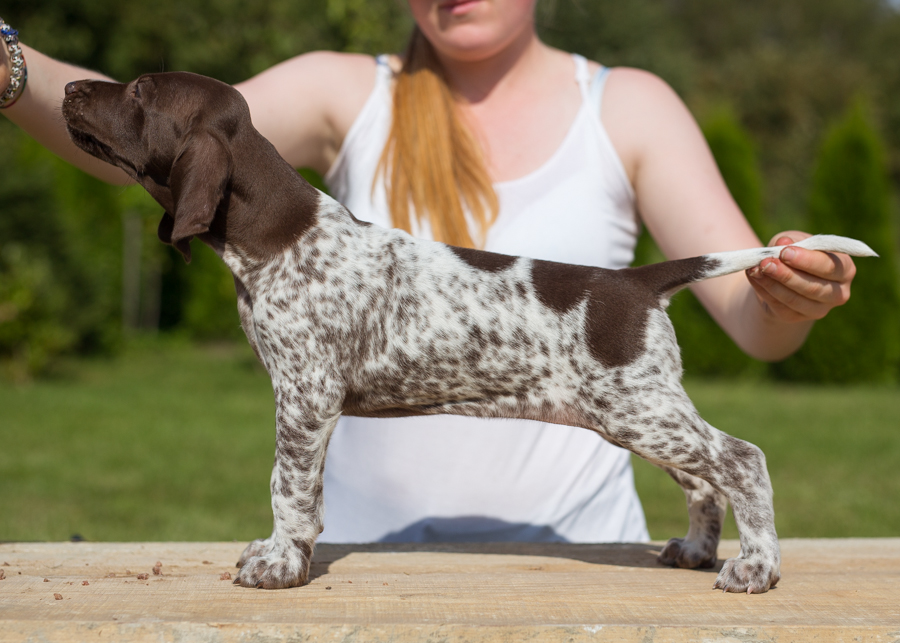 ---
Flash of Soul UPE  ♂
D.O.B. 2016-06-11
Click on the picture to see more photos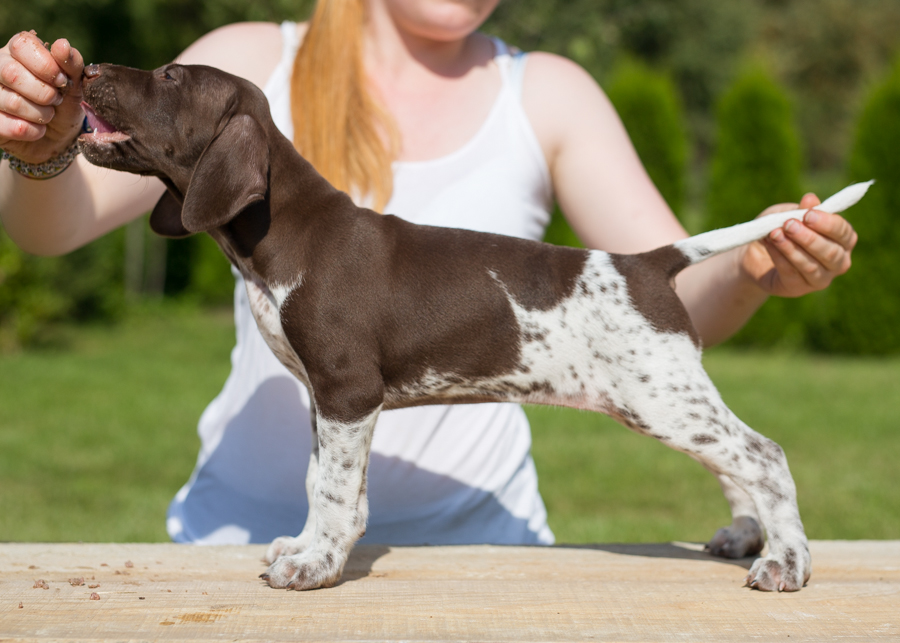 ---
Flash of Space UPE  ♂
D.O.B. 2016-06-11
Click on the picture to see more photos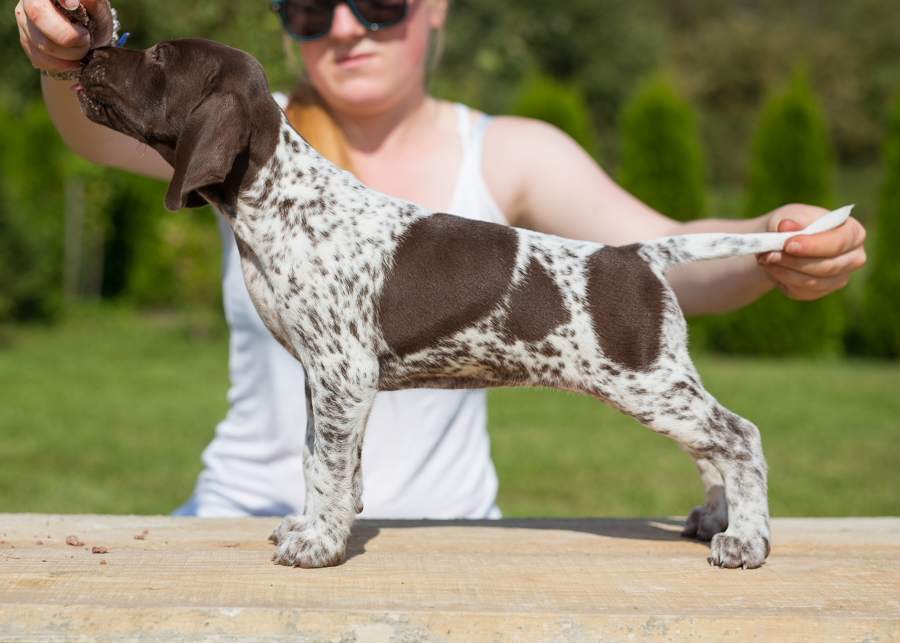 ---
Flash of Heart UPE  ♂
D.O.B. 2016-06-11
Click on the picture to see more photos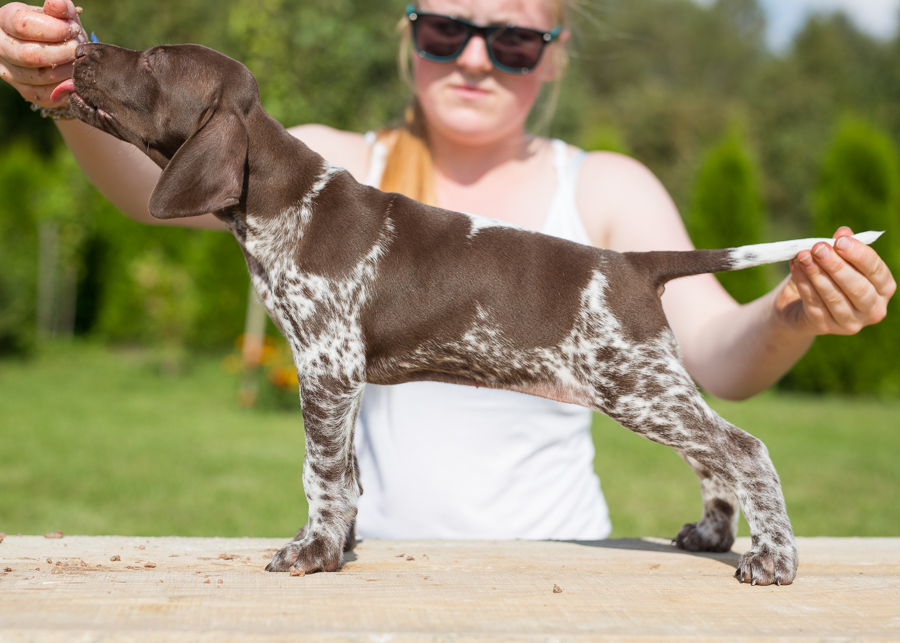 ---
Flash of Sky UPE   ♂
D.O.B. 2016-06-11
Click on the picture to see more photos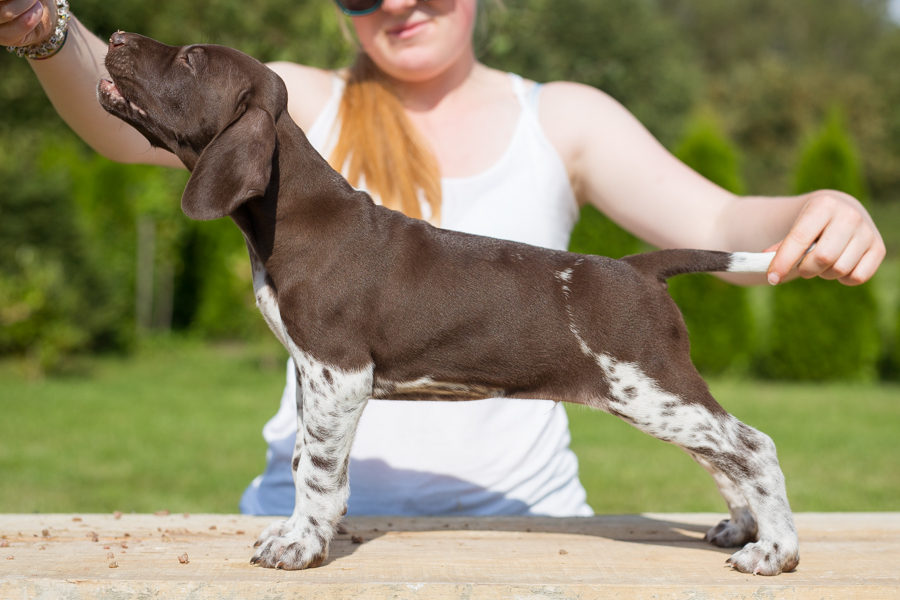 ---
Flash of Light UPE  ♂
D.O.B. 2016-06-11
Click on the picture to see more photos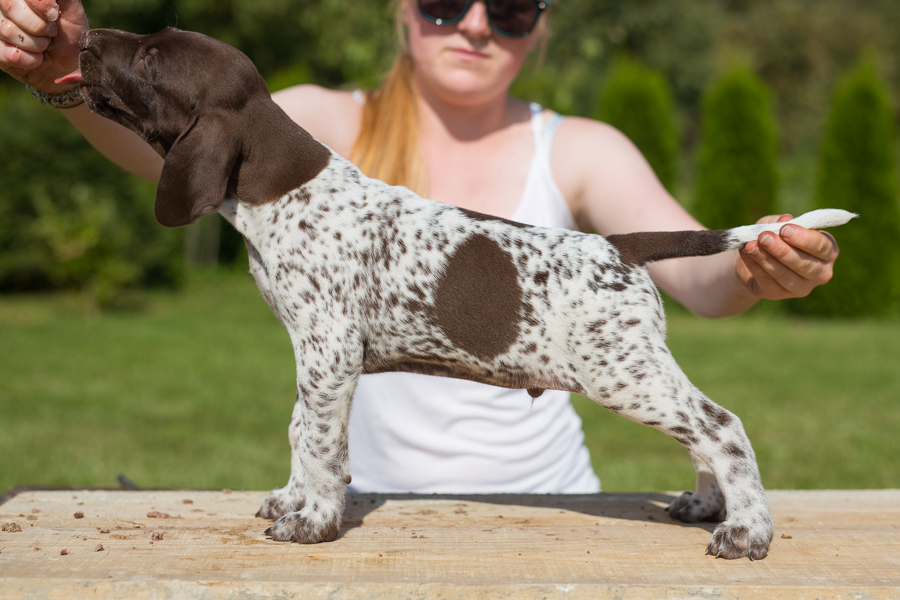 ---
Flash of Goal UPE  ♂
D.O.B. 2016-06-11
Click on the picture to see more photos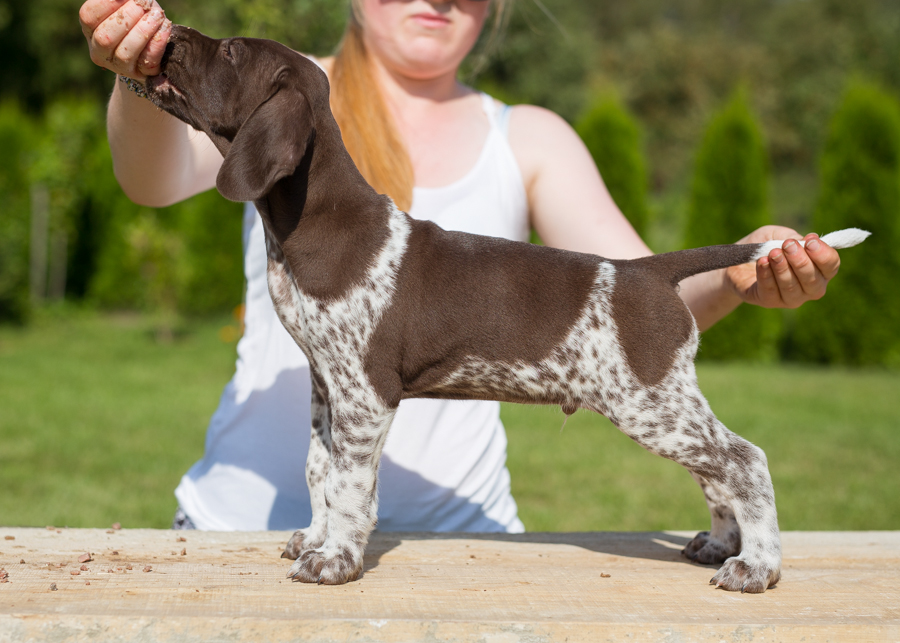 ---